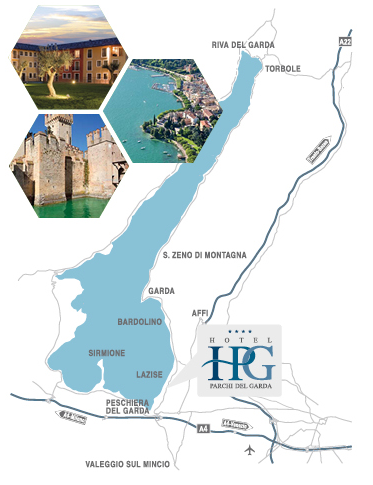 Venue - Hotel Parchi del Garda
Hotel Parchi del Garda: The biggest conference centre in the Verona province and Lake Garda area
Hotel Parchi del Garda is Lake Garda and Verona's most exclusive hotel and congress centre.
Thanks to its large, modern and functional spaces, as well as its ideal location, it is the perfect venue to accommodate such event. The new 4 star hotel is situated between Peschiera del Garda and Lazise, just 900 meters from the lake's shore. Built in perfect harmony with the surrounding environment, it is designed to resemble a typical Garda town. Hotel Parchi del Garda has 5 interconnecting pavilions with 218 elegant rooms and 15 exclusive suites.
The International CAE Conference exhibition area will be the highlight of our congress centre in the free-standing theatre hall Benacus. It has total dimensions of 870 sqm., natural light, a production room, two spacious back stages, and direct access to our garage. The two twin meeting rooms Riva and Rocca are next to each other and have the same dimensions. They both can accommodate a theatre of upto130 people. The Arilica hall is the perfect compromise between space and functionality with the ability to accommodate from 150 up to 315 people. All rooms offer the ideal setting for the various sessions and workshops for the International CAE Conference. All delegates, speakers and exhibitors will be welcomed at the  Gardesana hall at   Hotel Parchi del Garda providing an atmosphere for mixing business with pleasure.
How to easily reach the convention center?
Hotel Parchi del Garda di Benacus Spa
Via Brusà 37017 località Pacengo - Lazise (Verona)
Tel. +39 045 6499611
By Car: Thanks to the A4 motorway, there are only 5 km from Peschiera del Garda, or via the A22, we are just 13 km from the Affi.
By Train: The hotel is less than 4 km from the station of Peschiera del Garda train station.
By Air: The Convention Center and meeting hotels Parks del Garda is only 15 km from Verona Valerio Catullo Airport.
Hotel Parchi del Garda
Via Brusà 37017 - Pacengo del Garda (Verona)
Tel. +39 045 6499611
E-mail: info@hpdg.it - www.hotelparchidelgarda.it
Hotel accomodation
Hotel Parchi del Garda
Via Brusà 37017 - Pacengo del Garda (Verona)
Tel. +39 045 6499611
E-mail: booking@hpdg.it
www.hotelparchidelgarda.it
Participant Reserved Price:
€ 95,00 for Single Room
€ 110,00 for Double Room