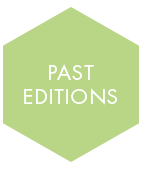 Past Editions
EnginSoft team has a long tradition on organizing and managing technical and scientific meetings, such as workshops, conferences and other various events.
The International CAE Conference first edition was organized by EnginSoft in Venice in 1984.
The CAE community is still growing; the use of such technology is becoming increasingly popular within companies from various sectors becoming as necessary procedure to the innovation of the design process.

In the last three editions, the International CAE Conference hosted more than 700 people each year, attending from various countries all over Europe.  Lecturers, contributors and attendees, are coming from important industrial groups and multinationals: Avio Group, Ansaldo, Snecma, Aerspatial, Magneti Marelli, Piaggio, Ferrari, Fiat, Jaguar, Daimler, BMW, etc.
The exhibition area holds further opportunities for individuals who wish to enhance their knowledge on CAE related solutions, hardware, software and collaterals as well as the best meeting point for exchange point of views between technical operators.
2012 International CAE Conference Proceedings