We had the pleasure to welcome and interview Mr. Motoaki Ioroi from Japan who works for Honda Engineering Europe Ltd. in the UK.
A. Kondoh: Could you please tell us a bit about your work and what type of CAE you are using at Honda Engineering?
Mr. Ioroi: Since I joined the UK office a few months ago, I have been gathering information to investigate the leading technology in Europe for automotive powertrain components.
I had been using ADSTEFAN, a casting simulation system, for fluid flow analysis and solidification analysis of hot metal in dies at our site in Japan before I moved to the UK office. At the moment, my main task is to study new technology, I don't use CAE currently in the UK office.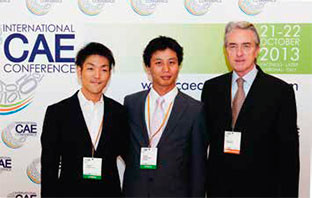 Left: Tomoya Tanaka of Honda Engineering Co.,Ltd.
Middle: Motoaki Ioroi of Honda Engineering Europe Ltd.
Right: Stefano Odorizzi, CEO of EnginSoft

A. Kondoh: What were the main objectives for your participation at the CAE Conference?
Mr. Ioroi: Our goals were to gather information about the CAE development trends in Europe and the recent case studies of casting CAE and forging CAE and to build networks with companies and universities which are developing CAE software products. We think that it is important to value the relationships between European companies and universities so that we can take full advantage of our CAE usage and improve the efficiency of product development.
A. Kondoh: What are your main impressions of the CAE Conference?
Mr. Ioroi: The conference provided an atmosphere of great openness, it was easy to discuss with others. The only pity was that I could not understand the entire content of some Italian sessions. I hope that next year there will be more English sessions so that the participants from around the world can participate more easily. This would provide even more opportunities for lively discussions.
A. Kondoh: Please tell me about your future vision for the use of CAE in your company?
Mr. Ioroi: We anticipate that cast components will become more complicated and therefore, the casting performance is going to be more challenging in the future. At the same time, we are required to reduce product development lead-time in order to cut costs. I hope to establish the ideal casting process for the components with complex geometries by applying CAE – This approach will indicate, will tell us which dies can deliver products with the targeted quality and without any errors.
This interview was conducted by Akiko Kondoh,
Consultant for EnginSoft in Japan